Jell: The Top OKR Software for Remote Teams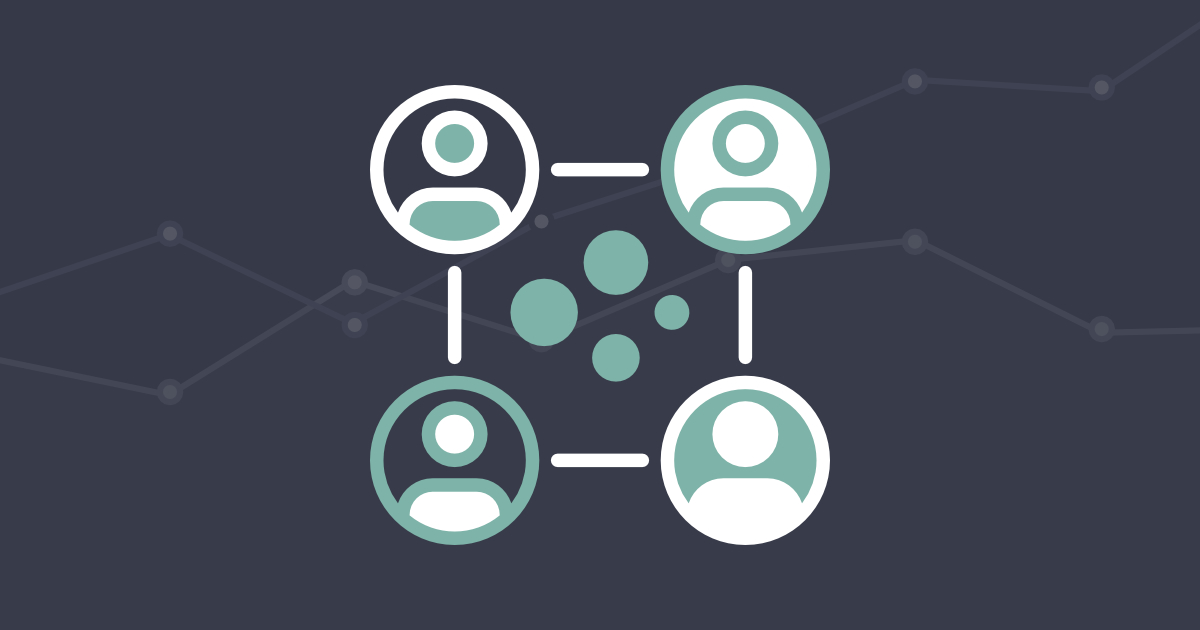 Jell is a great solution for teams to establish, track, and reach their goals.
With OKR software like Jell, you and your team can easily set goals, measure and communicate progress, and quantify performance when and where it matters.
What's even better is Jell offers other features and integrates with many tools you know and love. Read on to learn how to manage your goal-setting and OKRs and use Jell to its fullest.
Achieve Your Company Goals with the Right OKR Software
With Jell, you can easily manage everything you need for the best objectives and key results (OKRs). The tool empowers you to set goals, track and communicate them, and see your progress in a snap. Plus, Jell lets you hold asynchronous daily standups and individual or team check-ins. In just minutes a day, you'll get more to-dos done, sync up your team's goals, and maintain a happy, productive work environment.
Check out the neat features that come with Jell.
Boost Communication, Productivity, and Accountability with Jell OKR Software

Fit More Into Your Day with OKRs and Team Goals
When you share your OKRs with Jell, you're able to clearly focus and align your team on the big picture in front of them. Everyone's daily activities can correspond to their longer-term goals, and their progress can be easily tracked and shared.

Sync Your Team Up
When you integrate Jell with other handy tools you're already using, like Slack or Teams, it's easy to see how natural this OKR software fits into your workflow. Do this with the Jell bot to share OKR updates and progress, hold standup meetings directly from Slack, and check-in with your team. The best part? There's zero need for extra emails and meetings.

Align Your Team Each Day Using Standups
It's important to have a pulse on what your team members are up to. With Jell's daily standups, you can make it simple for the team to share status updates, wins, and pain points that appear in their day. Jell's standup meetings are efficient, without wasted meeting time, and bring everything you need at once to have meaningful conversations that help you make great decisions.

Hold Customized Check-Ins that Work for Your Team
When you hold ongoing individual meetings or management updates, you might find the need to gather information or data from your team ahead of time. To help with this task, you can easily set up additional customizable check-ins aside from your regular standup meetings.
Jell's OKR software allows you to:
Set goals at every organizational level and frequency, and see them in one spot.
Track the progress of each goal and share those results in one place.
Avoid setting goals and forgetting all about them, as often happens, by showing your progress using daily linked tasks, updated metrics, and comments.
Regularly review your goals and track their results by recording their performance.
Learn how to get started with OKRs, below.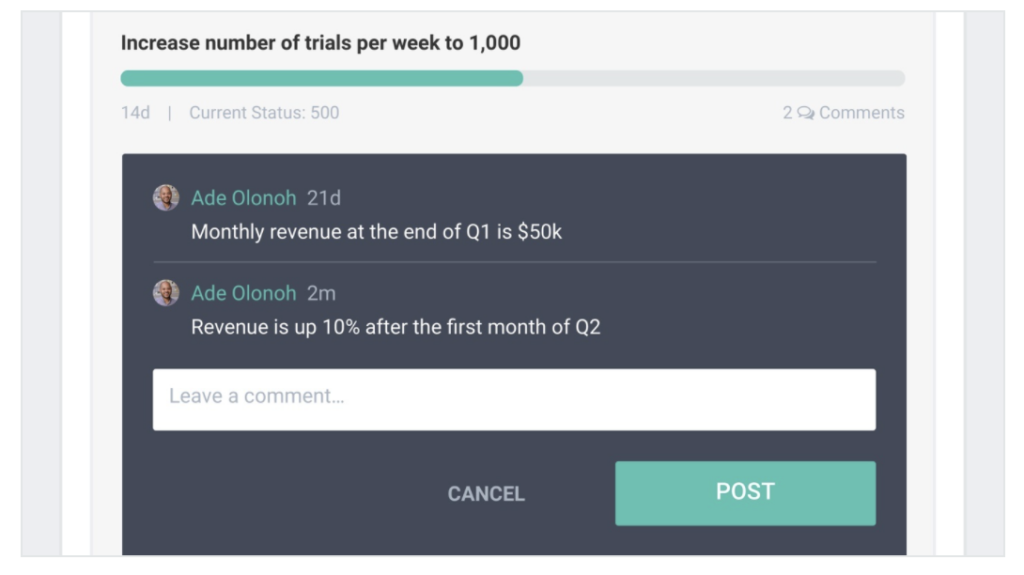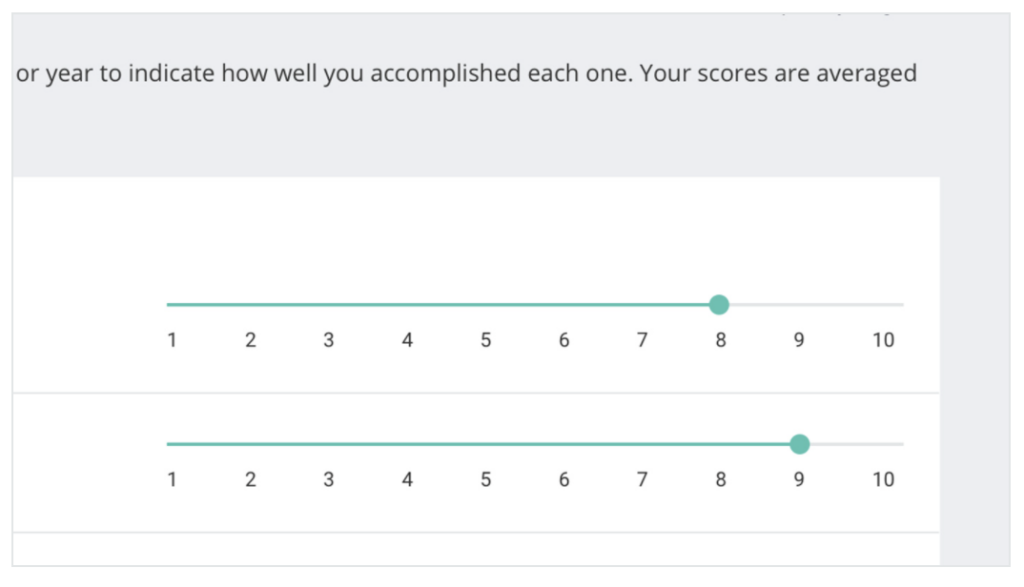 It's a breeze to get started with OKRs and goals using Jell. Simply head to the OKRs tab and select the teal button. Then, type in your goal, sub-goals, or milestones and assign a timeframe to each. You're now ready to publish your goals to your team and the areas of your organization that need to know.
A growing number of businesses use Jell OKR software to boost productivity and accountability. Here's why.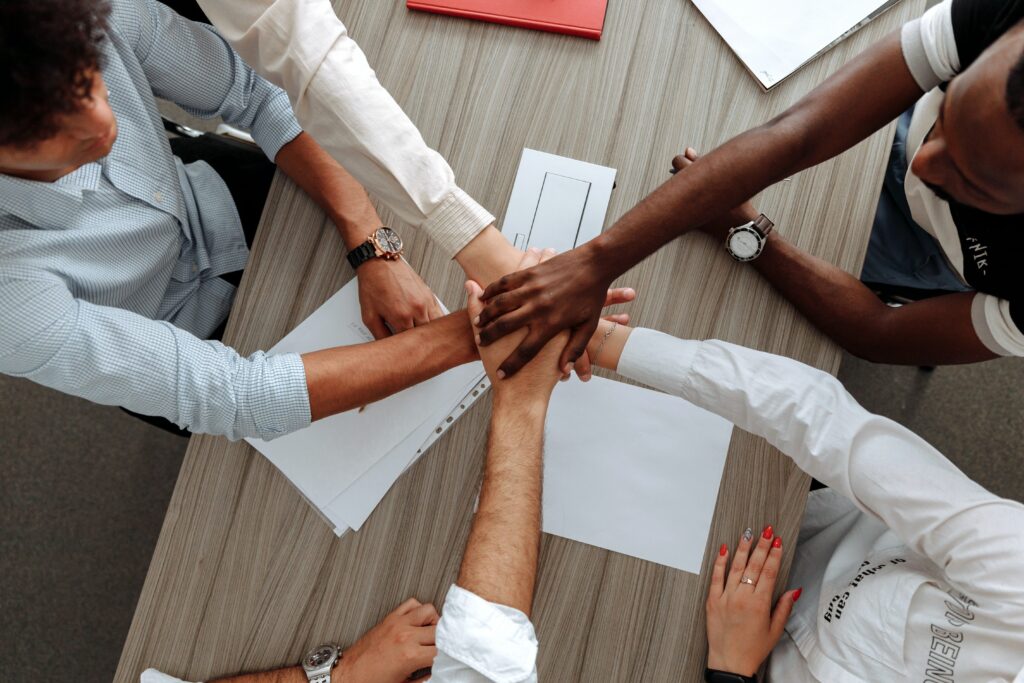 With Jell, teams can plan and communicate their goals and OKRs more effectively, all without extra and unnecessary meeting time. Check out what Jell's customers are saying about their experience to help discover if this OKR software is your team's best next step.
Tim C., Utilities


"AMAZING. Especially with Covid and working from home. This has been an amazing tool to make sure A) people are showing up to work on time, and B) you can track their process throughout the day. Such a great tool!
Pros: It is so simple, integrates great with other things we use such as Slack and Gmail and make sure that the leadership team or any team for that matter can keep themselves accountable.
Cons: It is not free. I do not have many cons for this. My gosh, it is 100% worth every single penny."
Christian, Accounting Software


"Jell fills the void of keeping track of what our team has on each day and we can see their progress.
Pros: This is easy to use and a good way to monitor the team's workload.
Cons: Nothing. It is easy to use and meets all our standards."
Elias J., Biotechnology


"The team at Jell has done a wonderful job of keeping the features right in line with our needs. So often, software platforms exceed ease of use by continuously adding features (we understand completely how and why this happens). Where they've added functionality, it's clear the addition was carefully considered and executed with precision.
Pros: In a world of increasingly dispersed teams, a singular platform that allows all team members to chronicle their daily projects and progress (that is NOT another virtual meeting space) is an essential tool in any manager's toolkit. Jell is that platform for our team.
Cons: We don't have any cons to call out. The Jell developers have kept it simple (in terms of features and usability – we know it's more complicated on their end)."
Getting Started With Jell
Take a peek at this video to learn about Jell's features and putting the OKR tool in action, including how the goal tracking and fulfillment feature works. Plus, it goes over sharing daily plans and progress among your team with scrum and standup meetings. Discover how easily and quickly Jell can help you manage productive and engaged teams.
Become a Better Leader
Get weekly updates with proven, actionable tips to help you lead your team.