Do you ever feel like everyone's flying solo? One team member announces she's launching into Project C while everyone else is still fine-tuning Project A. No one really knows what John is up to and Pete is still finalizing the reports you were anticipating three weeks ago.
Make Daily Standups Effective
If you spend more time tracking down what everyone's working on than you do actually working toward company goals, daily standups can help. Having a central place for sharing daily activities can get everyone in sync by making projects visible and progress definable.
As with any productivity tool, a standup system like Jell will only be as effective as the standards you apply to it.
Whether you're just getting started with Jell or are considering moving daily standups to an online platform, these best practices will help bring you closer to happy, productive teams with minimal effort.
Make Communication a Daily Habit
When you're just getting started with online standups, it's important to treat the system as a replacement to daily status meetings. Make sure your team members understand that they'll be expected to spend a few minutes each morning making their own updates and reviewing team members' statuses.
Think of it this way: When everyone knows who's working on what, you won't waste daily scrum time discussing mundane tasks. With team members already up to date, you can launch right into meaningful conversations about important topics and projects.
Start with a Simple System
Try starting with just three questions that are easy for team members to answer within a couple of minutes: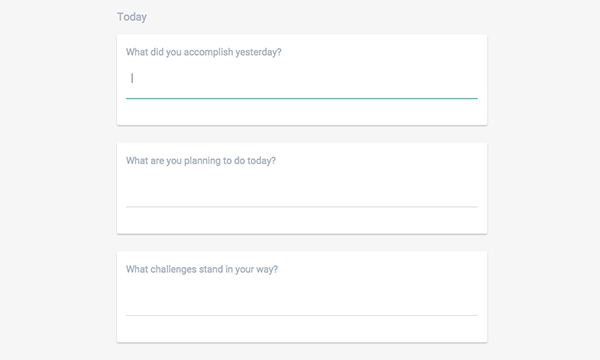 You can add more as you identify additional ways to better facilitate day-to-day collaborations. Just remember that the goal is to keep your finger on the pulse of projects as efficiently and effectively as possible. Sticking to a simple, SMART formula will eliminate confusion and usher in an era of open communication without adding another big "to-do" to the day.
Integrate Everything
Combining your tools into a customized productivity suite can greatly increase the impact your system has on day-to-day progress. Jell, for example, can be used to automatically post project updates to other team chat tools and make them more visible. (If you're not already using Slack or HipChat, see why we recommend them here.)
Used efficiently, online daily standups will help you avoid mindless meetings and extraneous updates by getting everyone on the same page…all in just a few minutes a day.
What about you? How are you using Jell to streamline day-to-day workflows? Let us know!