Businesses everywhere are working toward eliminating "unproductivity tools" and outdated methods of communication. Endless email chains and mindless meetings are out. All-in-one apps are in.
For many growing companies and remote teams, that means two-year-old Slack is playing a major role in day-to-day communications and collaborations. This group chat app has become essential to many an operation.
So when the developers at Formstack set out to create daily Slack standups software—now known as Jell—integrating with Slack and other productivity-boosting tools was a must.
Why Slack?
The company's mission is to "make your working life simpler, more pleasant and more productive"—which is precisely why remote teams spread across geographies and time zones use it.
Slack's ability to take unstructured data and chat-style communications from an entire organization and categorize them into "channels" can drastically speed up projects and progress. Files are more searchable and conversations more accessible. (No more hopeless quests for the latest version of an overly-edited and re-attached document.)
Out of the box, Slack offers quick access to integrations with dozens of popular tools, from Google Drive to MailChimp.
And then there's Jell.
Daily online standups add structured communication to Slack. Jell's SMART question-and-answer system turns daily to-dos and long-term goals into actionable, measurable processes. Managers know exactly where projects stand without micromanaging and employees more easily find solutions.
For example, let's say the integration's being leveraged by a team of marketers. At the start of her day, Molly Marketer takes two minutes to answer three simple standup questions: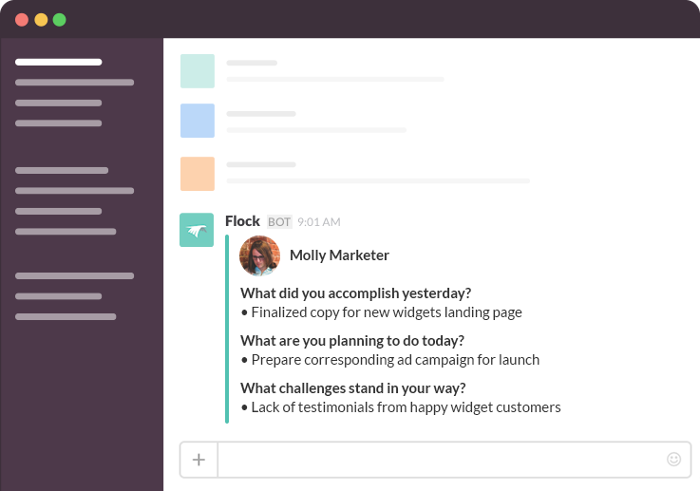 Her responses are sent to corresponding channels in Slack, where Andy Account Manager notices the response to question number 3 and lets Molly know that—just yesterday afternoon, actually—he had a conversation with a very happy beta tester who is going to be sending a testimonial today.
Integrated with Slack, Jell makes it easier to streamline project interactions, provide feedback and collaborate on goals. It reduces not only email chains and alerts but also silos, confusion and micromanaging—all without adding a single meeting to the calendar.
What about you?
What's your favorite way to use Jell for daily Slack standups? (Or HipChat, for that matter?) What recommendations do you have for making Jell even more practical? We'd love to hear your feedback and suggestions!