When it comes to the ability to increase team engagement, it's no secret that communication plays an enormous role in how well teams work together. With Jell's Likes and Comments features, your team can find and work through any blockers or issues that may arise without ever leaving the app.
In this post, we'll show you how you can let team members know you appreciate their work while cutting back on emails and Slack messages.
Likes

Each standup and check-in submission will have a like button next to it. You can use a Like as acknowledgement of a task your team member completed and to show your appreciation. It only takes a second but it's a great way to engage with the rest of your team and keep things fun. It lets team members know their role is important.
When you like a team member's submission, Jell will send him/her an email, and if your team is using Jell's Slack or Microsoft Teams integrations, notifications are sent there too. Just make sure chat notifications are enabled in your Notification settings.
Comments
Comments are a great way to increase team engagement by providing more than a simple acknowledgement. Comments are a great way to work through any blockers that come up or to just ask for clarification if you're not sure about something.
While it's always possible to use other channels of communication like Slack and JIRA, keeping things centralized in Jell makes it easier to track down what's really standing in the way of getting goals accomplished instead of saying to yourself, "Bob mentioned something about ticket DEV-123, but I can't remember if it was in Slack or JIRA. Let me spend 10 minutes of my precious time digging through these channels to see if I can find what he said!"
How We Use Likes and Comments at Jell
As for Team Jell, we use Likes as an acknowledgement of a task being completed. Or if a task that needed to be completed before another team member can start on another task, a Like can be as a way to say 'thanks, I see this is completed, I'll start on what needs to be done'. The more your team uses Likes, the easier it'll be to find your own rhythm.
We use Comments for quick questions, which are faster than sending an email or a direct message. We also don't have to wait until the next meeting for confirmation, either. Comments are threaded in each submission, making it easy to ask a question specific to each task. In this example, you can see the comments for the "Schedule time to meet with Developers" task: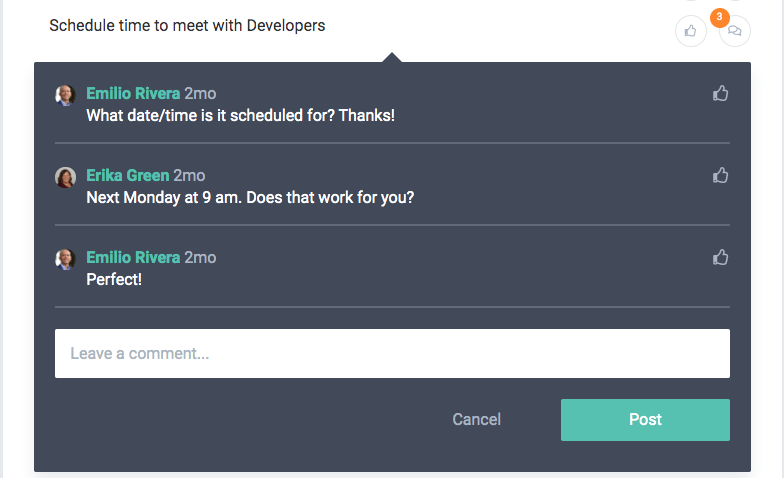 How You Use Likes and Comments
How you and your team use these features is up to you, but we believe they can be very beneficial. If you're not using these features yet, we encourage you to give them a try. Be the first to click that Like button and show recognition to one of your team members.
You can also Comment to let your team members are doing a great job. Or if a task is blocking you from doing one of your own, use the comments feature to work through the issue with your team.
You'll instantly see how much time you save.