At Jell, we're focused on reducing the need for unnecessary meetings while making fewer meetings more successful. We have regular one-on-ones and daily standups, but we don't waste more time in meetings than needed. We talked about the science of productive meetings and the psychology of routine meetings but has your team calculated just how much time you're wasting in your meetings? We created a free meeting calculator to see how much time and how many minutes you spend in meetings. 
Why did we create this free meeting calculator?
Have you ever had one of those days when it's suddenly 4 p.m., and you start to think: "What the hell did I do all day? Why didn't I get anything accomplished?" Of course, if you answered "No," you're simply awesome (congrats!), or you're fooling yourself.
We devote countless hours to an ongoing cadence of routine team meetings: standups, status check-ins, recaps, and group brainstorming sessions. Unfortunately, it seems as though we're psychologically programmed to be drawn to these recurring group activities, even though science says a more minimalist approach is the key to productivity.
If you want to clear your calendar of excessive meetings—and keep them from creeping back in—you'll first need to explain just how much time you're devoting to meetings when you could be getting stuff done.
The problem is, unless you want to take on a massive analysis, calculating exactly how much time, energy, and money is going toward meetings is just an anecdotal guess. But not anymore.
Which begs the question: How much time did you waste in meetings over the past year? See for yourself with our free, nifty calculator:
The results may surprise you. Our calculations are based on only 45 meetings a year for recurring meetings and assume a salary of only $65,000. So how do you stack up? Please share them with us on Twitter.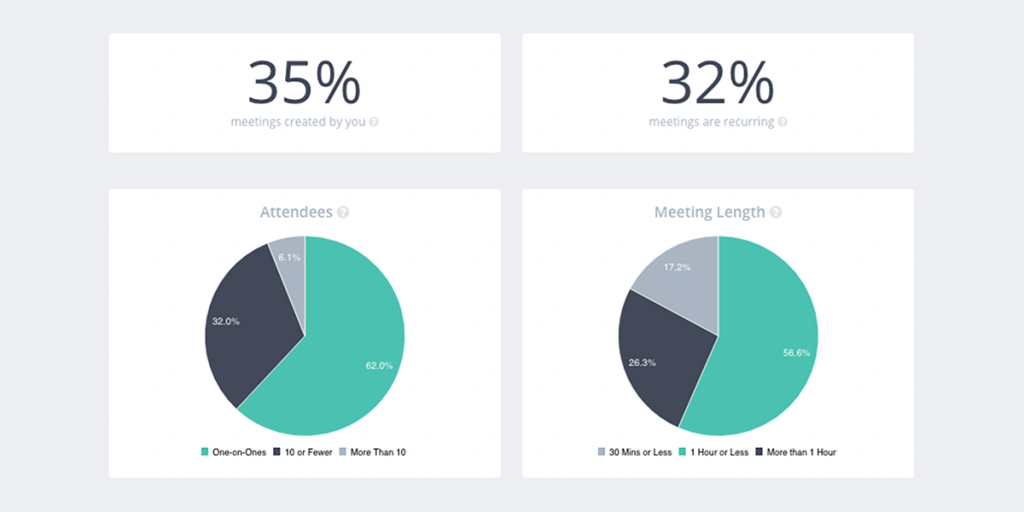 Never Waste Time in Meetings Again
Automated Daily Standup Reminders, Check-Ins, & OKRs
14-day Free Trial. No Credit Card Required.
Free Meeting Calculator: The Types of Meetings You Might Be Having
One-on-Ones 
One-on-One meetings are regular check-ins between two individuals in an organization, typically between a manager and their subordinates. 
You can use one-on-ones to:
Give constructive feedback

Keep one another apprised of concerns

Check-in on workplace progress

Resolve issues

Help employees improve in their roles
One-on-one meetings are arguably the most critical meetings in the workplace because they build a foundation for a supportive and trusting workplace relationship.
Team/Staff Meetings
Team meetings are check-ins between team members in a specific department. They're opportunities for everyone on the team to discuss various updates like progress reports, announcements on promotions, program status reports, and more. In addition, some teams use staff meetings for brainstorming sessions or team-building activities. 
Effective staff meetings:
Encourage participation from everyone on the team

(If remote) Encourage team members to keep their video and microphone on at all times

Don't allow interruptions or meandering off-topic conversations

Ensure accountability
While staff meetings should be serious, managers would be good to encourage fun and camaraderie. 
Brainstorming meetings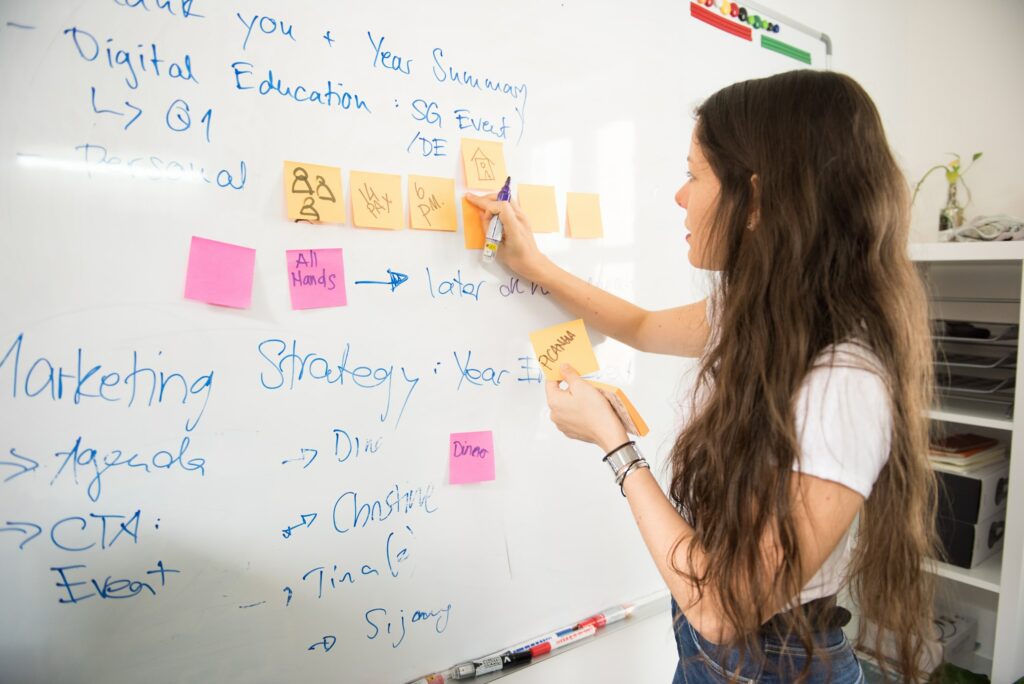 These meetings allow creative energy to flow between teammates. These are meetings where ideas are pitched, used, or rejected. Effective innovation meetings breed successful projects. 
To keep things on track, meeting leaders need to set an agenda outlining the goal or setting up time slots for each team member to share their ideas. 
Scrum meetings
In Scrum, your work comes in cycles or sprints. These are usually two weeks long but can be as short as one week or as long as four weeks. In the early Scrum days, sprints were thirty days long, but the rules changed in favor of shorter sprints. As a result, five different Scrum meetings occur at various times during a Sprint cycle. Each type serves a distinct purpose: 
Sprint planning

Daily Scrum

Sprint review 

Sprint retrospective

Backlog refinement 
Sprint Planning
Companies hold a Sprint planning meeting at the beginning of every Sprint (or period). The entire team should be present during this meeting, especially the Scrum master. 
This meeting aims to outline the highest priority tasks during each Sprint and develop a practical Sprint backlog. 
During the meeting, team members set their goals for the Sprint and determine the amount of work they can complete within the Sprint. By the end of the session, the team comes back with a Sprint goal and a Sprint backlog.
Daily Scrum (Daily standups)
Standup meetings (scrum meetings) are a part of the Agile framework. It's a short meeting to review essential tasks employees completed, are currently working on, or will be working on. The Scrum Guide states that "the daily scrum is a 15-minute time-boxed event for the development team to plan for the next 24 hours."
During the short meeting, teams answer the following questions,
What did you do yesterday?

What will you do today?

Anything blocking your progress?
These meetings identify potential problems, "blockers" and reveal what the entire team is working on individually.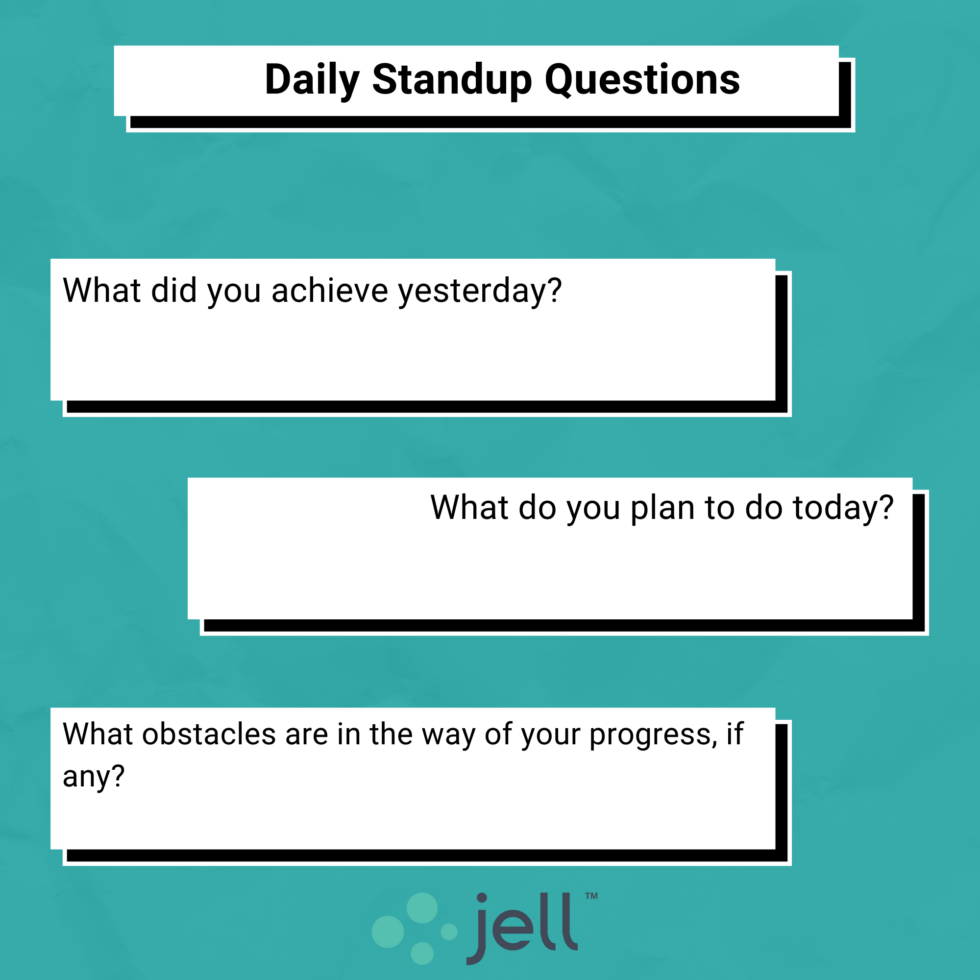 Sprint Review 
At the end of every Sprint period, companies hold review meetings. These meetings demonstrate what was achieved during the Sprint. Usually, the CEO, Scrum Master, and other stakeholders are present for the Sprint. 
During this meeting, participants also measure the product performance against the original Sprint goals developed during the Sprint meeting to evaluate any changes and make adjustments. 
Sprint Retrospectives
Retrospectives are meetings held after products ship or a service releases to discuss what happened during the product development and release process. The goal of these meetings is to reflect on any successes, failures, and shortcomings and improve upon the future strategy. If you need any tips on effective retrospective meetings, read our article on the 7 secrets of highly effective retrospective meetings. 
Backlog Refinement
The last meeting in a Sprint is the backlog refinement meeting or backlog grooming. Product backlog items need to be refined and tweaked for the next Sprint to allow the team to understand them, leading to tremendous success.
During backlog grooming, backlog items are organized and prioritized with the team, so the team knows how to execute the tasks and reviews the deliverables and requirements. 
Backlog refinement meetings reduce the time spent on Sprint planning and allow the team to reflect on the backlog before committing to new Sprint cycle goals.
If you need tips on how to hold better Scrum meetings, view our guide here or consider using an application like Jell to help you organize your meetings. Jell integrates with both Slack and Microsoft Teams to help your team communicate daily, no matter where they are in the world.
All you need to do is add Jell to Slack or Microsoft Teams. Once you connect, your Jellbot allows you to post status updates with your team. The Jellbot asks you questions. When everyone's submitted their responses for the day, the updates post to the Slack channel of your choice so that every member in the channel can view the updates. 
Align your teams with Daily Standups. Then, all you need to do is:
Set your schedule.

Configure your questions.

And get your team on board.
To accommodate teams of varying timezones, Jell lets you set the frequency of the standups–whether once a day or once a week.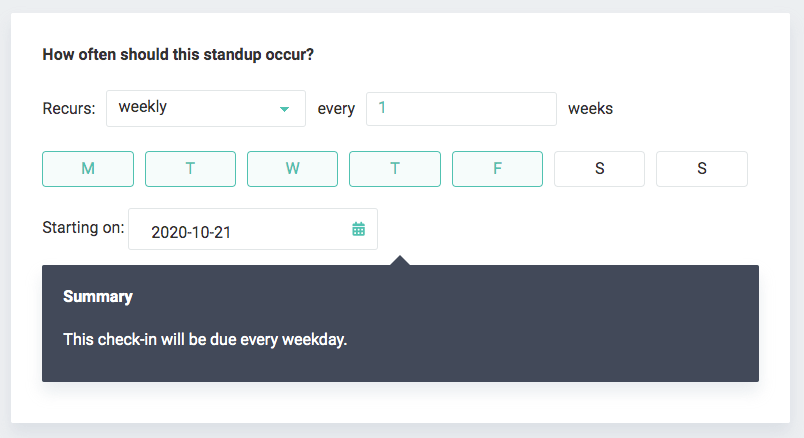 Not every team has the exact needs, and that's why Jell allows you to control the questions you ask your team and how often you're asking them. Choose from test-based questions to lists, multiple-choice, or numbers-style questions.
Rather than having constant interruptions distracting your coworkers from their daily tasks, Jell allows your team members to answer the questions on their terms, saving them time and increasing productivity. 
Distractions negatively affect productivity. Researchers at the National Library of Medicine sampled fifty-four students. Each student outlined and wrote three essays using a within-subjects design. During condition 1, interruptions occurred while the students outlined. During condition 2, interruptions occurred while students wrote. No interruptions occurred in condition 3. They found that the quality of work was significantly reduced in both interruption conditions compared to the non-interruption condition. They also found that the numbers of words produced significantly reduced when students were interrupted while writing, but not when outlining. What does all of this mean? It means interruptions negatively impact the quality of work during a complex, creative writing task or tasks requiring the writing part of the brain. 
Other observational studies have shown that employees are interrupted more than 12 times per hour in the workplace. For example, one study found that a typical manager is interrupted six times per hour, while another showed that the average cubicle worker is interrupted more than 70 times a day. This comes at a cost, too–around $588 billion annually. 
So, help your team out with fewer distractions by using Jell for your next standup meeting.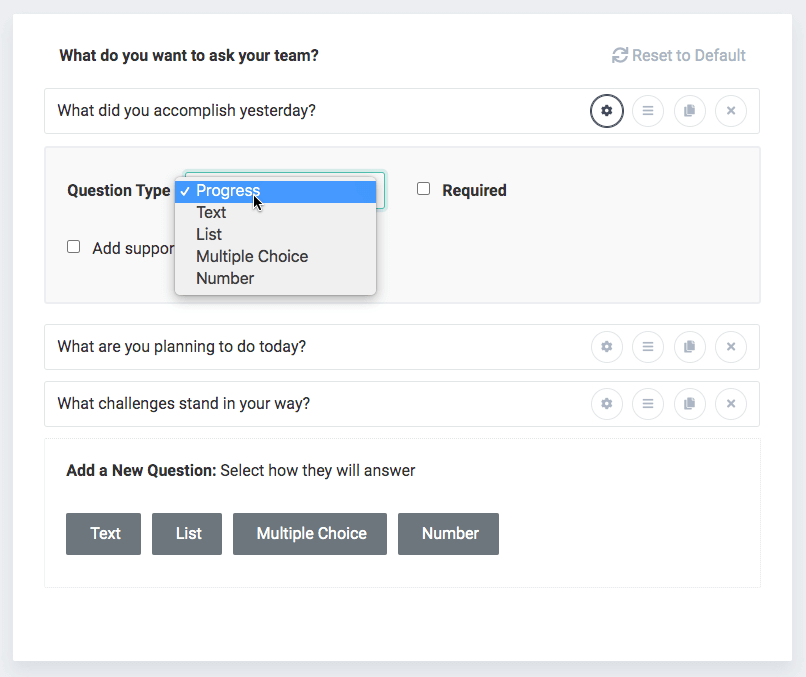 Once you set your standup frequency and configure your questions, you're ready to get your team on board. Adding your team to the Jellbot is easy. Once they're using the Jellbot, they'll receive reminders to participate in the standups, depending on the frequency. 
Integrate with the tools you use, not the tools we want you to use. Jell is all about customizing your workflow needs, and integrations are no exception. 
Daily Standups, Check-Ins, & OKRs
Jell conveniently integrates with Slack, MS Teams, & more.
14-day Free Trial. No Credit Card Required.
Jell integrates with:
Slack

Microsoft Teams

GitHub

Jira 

Trello

Clubhouse.

PivotalTracker

GitLab

FogBugz

CA Flowdock
Here's how you can sign up for Jell with Slack or Teams:
First, create

 an account with Jell.

Set your question frequency and question type.

Invite your team to join.

Send the questions to your team members, and Jellbot will do the rest. Finally, Jellbot reminds your team to submit their questions. 

As your team members answer the questions, you can view all activities and progress in your designated channel. 
You can set up daily standup questions in less than a minute. See how to do it here: 
Free Meeting Calculator: A Few Tips to Have More Productive Meetings
Ensure the meeting has a purpose.

No one wants a meeting that could have been an email. If you're going to host a meeting, make sure it has a purpose like a weekly team meeting, emergency planning meeting, Sprint review, or something with

actionable goals. 

Create a schedule ahead of time.

Distribute a plan to your team members before the meetings; that way, all employees anticipate and prepare for the meeting. Limit the number of action and discussion topics, so you allow a little time for employees to

ask questions and address concerns. 
Set a time limit.

Set a designated meeting time that starts and ends promptly. Your time and employees' time are valuable, so you must honor these time commitments. Employees know how to plan for the rest of their day and allow the meeting leader to prioritize and condense agenda items. 
Keep the conversation flowing.

Occasional lulls are okay and normal, but don't let individual participants dominate the conversation or repeat comments that came before it. If the meetings are about to end and participants still have questions, invite them to submit their questions through Slack or email.  
Assign follow-up tasks.

At the end of the meeting, dole out responsibilities for each team member–who is responsible for what and when. The clarity brings purpose to your meetings are puts your company in the best position for success.

Send follow-up emails or Slack messages.

If several points were addressed in the meeting,

distribute the information right after the meeting adjourned.

This keeps your employees on top of the work they need to complete before the next meeting. 
These are only a few tips to ensure more productive meetings. When meetings aren't effective, they come at a cost to your company. Help employees work SMARTer at your next meeting to save yourself time and money. 
Conclusion
Once you find out how many minutes you waste in meetings per year, you can use tools like Jell and productivity hacks to reduce the number of unnecessary meetings and make fewer meetings more productive. 
Daily Standups, Check-Ins, & OKRs
Jell conveniently integrates with Slack, MS Teams, & more.
14-day Free Trial. No Credit Card Required.