Gone are the days when you come back to work after a week-long vacation only to find your email's inbox blown up. Fast forward to now; you log in to your Slack account, and you have dozens of @ mentions, thread replies, and private messages to catch up on.
Slack replaced email because of its simple interface and instantaneous message receipt. But, whether you work in-person or remote, Slack probably infiltrated your workplace, too, with most of your team's informal communication occurring in the app. So, we ask the question: Are you leveraging Slack for all of its features? If not, we're here to help with our best Slack tips. 
Strengthen Team Communication with Jell
Automated Daily Standup Reminders, Check-Ins, & OKRs
14-day Free Trial. No Credit Card Required.
Slack Tips: 3 Tips for Better Team Communication and Collaboration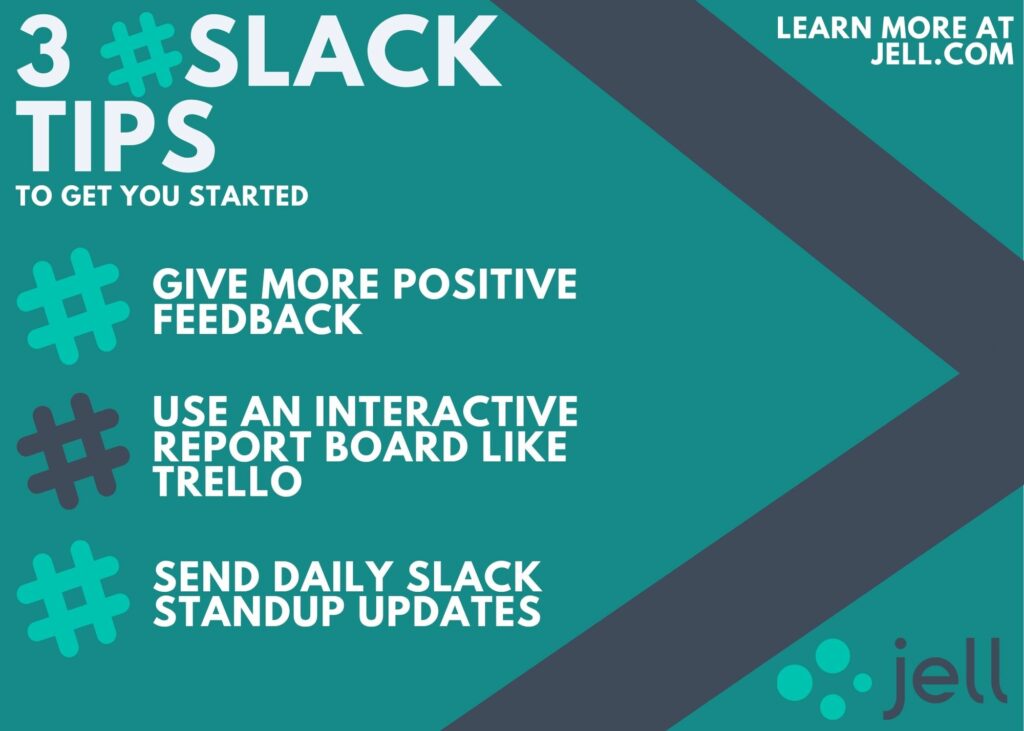 1. Give More Positive Feedback
Did you know that the #1 predictor of successful marriages is the ratio of positive-to-negative statements? Or that golf students experience a 45% increase in accuracy when hearing words of encouragement? 
Similarly, employees are appreciative when they receive positive feedback at work. Various stats and studies show how employees—even those who are already high performers—become more motivated and productive after hearing about their strengths from others. The first of our Slack tips: Use Slack to share positive feedback. 
If you need a way to leverage the power of positive feedback frequently, Slack is a great way to do that. For example, you can:
Post

this gif

to give a virtual high-five

Send a (public) direct message that looks something

like this

Call-out an accomplishment in a corresponding channel

Add a "thank-you" or "great job" to your next update
2. Stay in Sync with an Interactive Report Board
We found the second of our Slack tips from our friends at Fog Creek Software. Fog Creek regularly shares individual statuses, accomplishments, and challenges through Slack. Team leaders also have one-on-one meetings with individual employees weekly or bi-weekly. Users can find this information on Fog Creek's official Company Report board on Trello, which is set to push updates back into Slack automatically. Their report is a live feed of projects and progress across the entire company. 
But that's not all.
Fog Creek also created a Lumbergh-inspired bot that makes regular appearances in Slack to enforce report board rules to keep things fun. He wears an ugly tie and ensures you got the memo about using the Company Report board.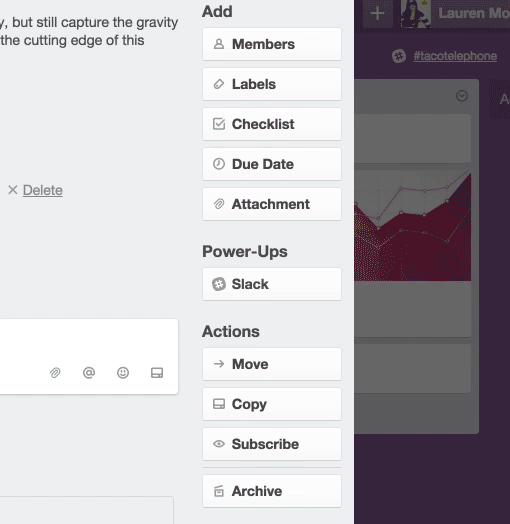 It's easy to fall into the trap of mindless meetings, isn't it? Instead of sticking to project goals, discussions veer into the unproductive realms of weather and other unrelated topics. Or you spend a disproportionate amount of time going around the room (or conference line) learning about every team member's project.
When adequately executed, meetings provide tremendous value. However, done wrong and meetings waste a lot of time.
Slack is a great way to get meetings right. It provides a public forum where everyone can see what everyone else is working on—so when you finally do meet, discussions are laser-focused on the most critical issues at hand. One way to take this a step further is by integrating online standups that let you keep tabs on project progress and any challenges that need to be solved.
What is Slack, and why is it all the rage?
Slack is a communication platform developed by Slack Technologies and currently owned by Salesforce. If you're old enough to remember AOL Instant Messenger (AIM), it's essentially AIM but for businesses. 
Slack can be whatever you need it to be: it's a meeting place, group chat, conference room, watercooler, office cubicle for your entire team. It's a place to collaborate and communicate with your team, no matter where you are in the world (especially important for remote teams who don't have many opportunities to connect). 
Slack is instant messaging for your entire team. It was created as a way for businesses to communicate with each other as a group and coordinate one-on-one meetings. 
Other helpful Slack tips: 
Create public, private, and Slack channels. These channels are virtual meeting rooms for everyone in the channel to share tools, files, and thoughts to get work done.

Streamline your work by connecting with over 2,500

other application integrations

, including

Jell.com.

Assure safe data encryption and safety.

Connect with individuals outside of your organization with

SlackConnect.
Businesses love Slack for its ease of use and accessibility. Plus, you can use it on your iPhone, Android, iPad, laptop, desktop computer to receive push notifications at all hours of the day, so you never lose a message again. 
Keep in mind, it's not best for every business and may not be the best solution for yours. 
Should my organization use Slack?
Slack is a tool that revolutionized workplace communication, replacing email, text messaging, and other instant messaging applications like HipChat (RIP HipChat). With the flexibility of desktop and mobile versions, Slack is universal, allowing users to communicate with their team no matter where they are in the world–Slack is available in 150 countries. However, even though this platform is magic for most companies, that doesn't mean it'll work for everyone. 
To help you determine if Slack is suitable for your workplace, we've created a list of Slack features in a pros and cons list.
Pros 
Instant communication: You can instantly message your coworkers through #channels, video conferencing, phone conferencing, and direct messages.

Share documents, images, and other files with your teammates through channels or direct messages.

Send push notifications to your coworkers' phones or computers by using "@ + their name" to attract their attention, even when they're signed out of the app and away from their device.

Setting reminders for yourself, your team, or your entire company: Slack offers Google Calendar integrations so you can remind yourself or your company of upcoming events.

Slack integrates with over 2,500 applications.
Cons
Being "on" all of the time: because of Slack's push notifications, employees may feel pressured to constantly stay connected at their job, even when they're on vacation. This isn't conducive to a healthy work/life balance.

Technological obstacles: some team members may not have access to a smartphone or even a desktop computer at home. Other team members may be resistant to adopting the technology.

Slack is less ideal for significant decisions and larger-scale projects. 
Slack is best for: 
Instant communication: quick questions, fast decisions, getting a coworker's attention when needed, impromptu phone and video calls

Quick polls and voting

Connecting global teams across multiple time zones.

Effectively onboarding new team members, volunteers and connecting with individuals at other companies.
If your team already communicates in person in the workplace, it may not suit your needs to have an instant messaging app like Slack. Even though there are drawbacks to using Slack, more evidence points to its usefulness, especially for collaboration,  communication, and external application integrations. 
Daily Standups, Check-Ins, & OKRs
Jell conveniently integrates with Slack, MS Teams, & more.
14-day Free Trial. No Credit Card Required.
For example, Jell is one such Slack integration. With Jell, you can view real-time statistics for your team's goals. You can set goals at every level of your company and view them in one place. It doesn't matter if you use annual, monthly, bi-monthly, quarterly, or annual goals, every member of your team can track their progress and share results in one dashboard. 
Why have goals if you can't integrate them into your daily workflows? This way, you can hold one another accountable to your goals and accomplish them faster.
Jell provides managers with tools to make for smooth one-on-one meetings for the managers out there. The most common use case for check-ins is a weekly recap (also known as a wrap-up, post-mortem, or summary). 
A few sample questions:
What was your best accomplishment this week?

How many clients did you meet with this week?

How many new users converted to a premium account?
As a team leader, you may be required to communicate your team's breakthroughs, accomplishments, goal progress, and other important information. We call this communicating up. Check-ins allow your leadership team to communicate up the chain of command easily.
Sample questions:
What significant milestones did you achieve this month?

Were there any risks or issues involved?

How much personal bandwidth are you using?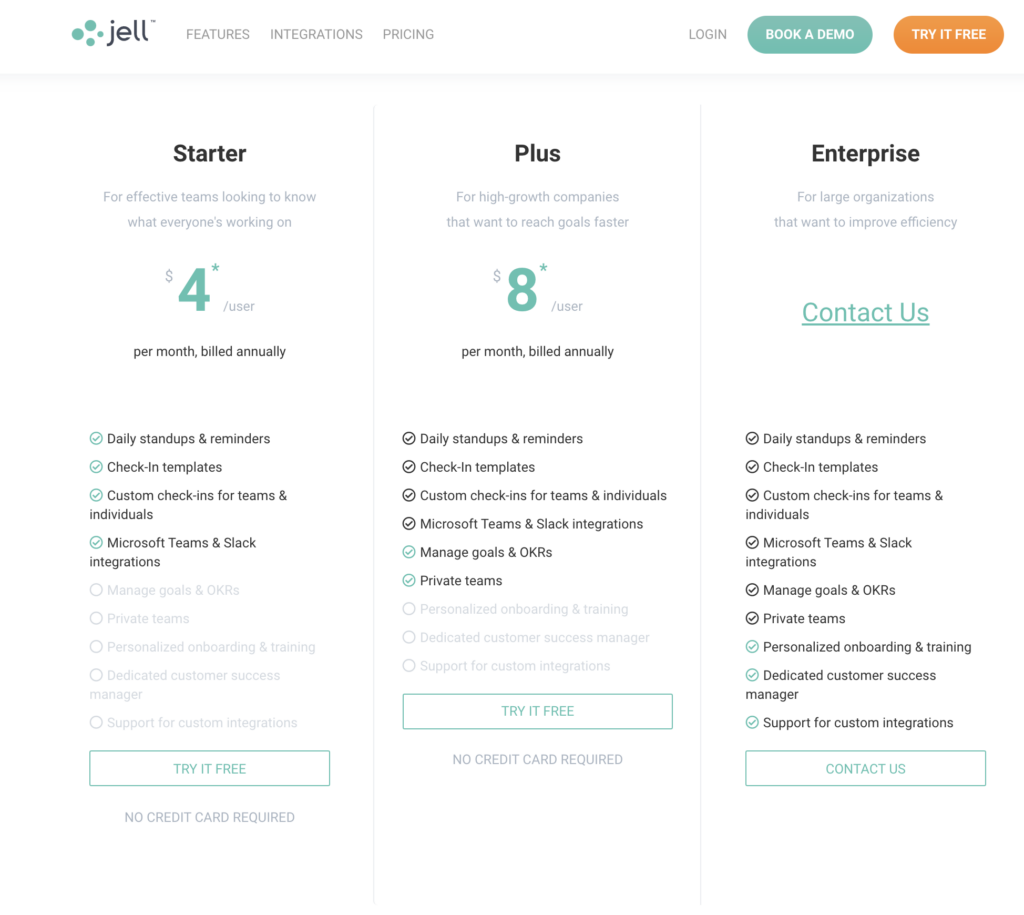 Our plans start at only $4 per user per month, billed annually. If you're unsure what plan you should try, we recommend talking with our sales team today. 
Slack Pros in Detail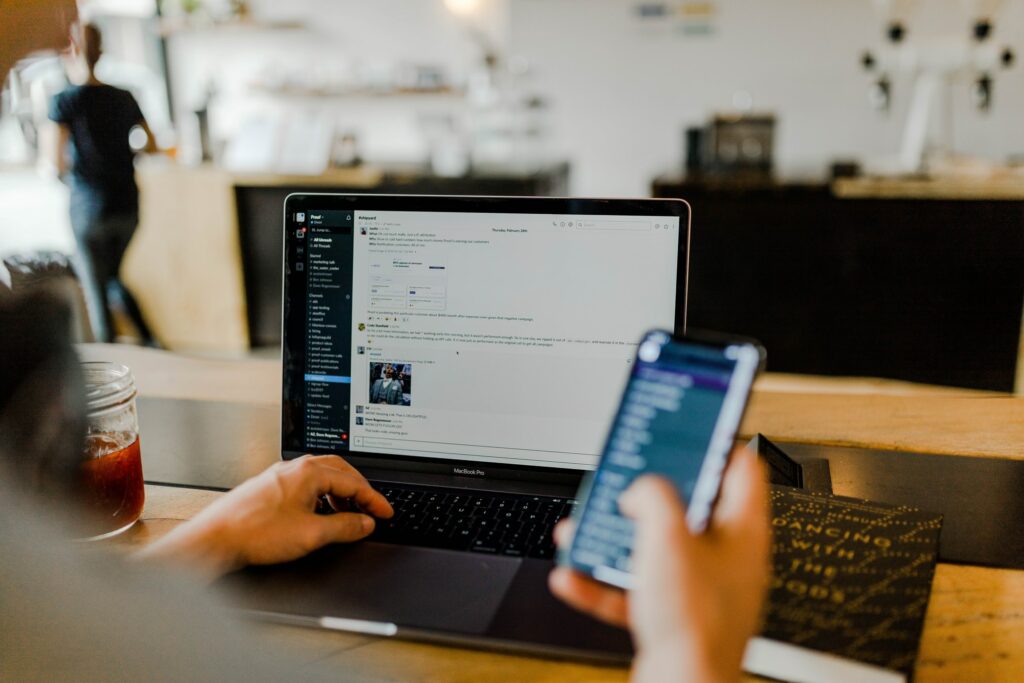 Communicating
Slack was built for communication between team members, and it offers several communication methods. You can set up topic-specific Channels. For example, if you want to have a private leadership group chat, your channel might be #leadership-team. In Slack, you can control if the Slack channel can be visible to others outside of the group but within the company by listing them as either public or private. Any employee can join a private channel but only invited employees can join private channels.
Team members can send private direct messages to one another by searching for an employee and then clicking on their name. In addition, users can react to posts with emojis and GIFs and create polls for questions. 
Slack also offers the ability to call or get on a video conference with other team members. 
Have to talk something over quickly with your manager? Call them over Slack. Need to meet with your team to chat about a pressing issue? Video chat with them through Slack. With Slack's phone and video integrations, it's easy to communicate with your coworkers when text-based communication isn't enough.
Screen-sharing
Just like Google Meet, Slack also offers a screen-sharing feature. So if you want to collaborate with your team through video and share your screen to show or teach them something critical, Slack screen-sharing is perfect. There's also a built-in pen feature so you can circle essential details on the screen.
File-Sharing
Just like screen-sharing, file-sharing allows you to quickly drop and send files to your coworkers, no matter what the file size. Drag and drop the file into a comment and hit Enter. 
Search
If you ever need to reference a prior conversation or file and cannot find it, enter Slack's search function. Just press "Cntl + F" on Windows or "Cmd + F" on Mac and type in what you what to find. Slack shows you every accessible entry for that search.
App Integrations
There are a plethora of Slack integrations such as Google Docs, Jira, and especially Jell. You can also customize your Slack experience by using the API. 
Security
Slack is serious about security. If you're ever concerned about safety in-app, read over their security features page. Learn about single sign-on, domain claiming, and data encryption features. In addition, Slack uses tools like Slack Enterprise Key Management (Slack EKM), audit logs, and other security integrations with data loss prevention (DLP) providers.
Generous Pricing
The best part about this magical tool is the cost. It's as little as free and as expensive as your business allows.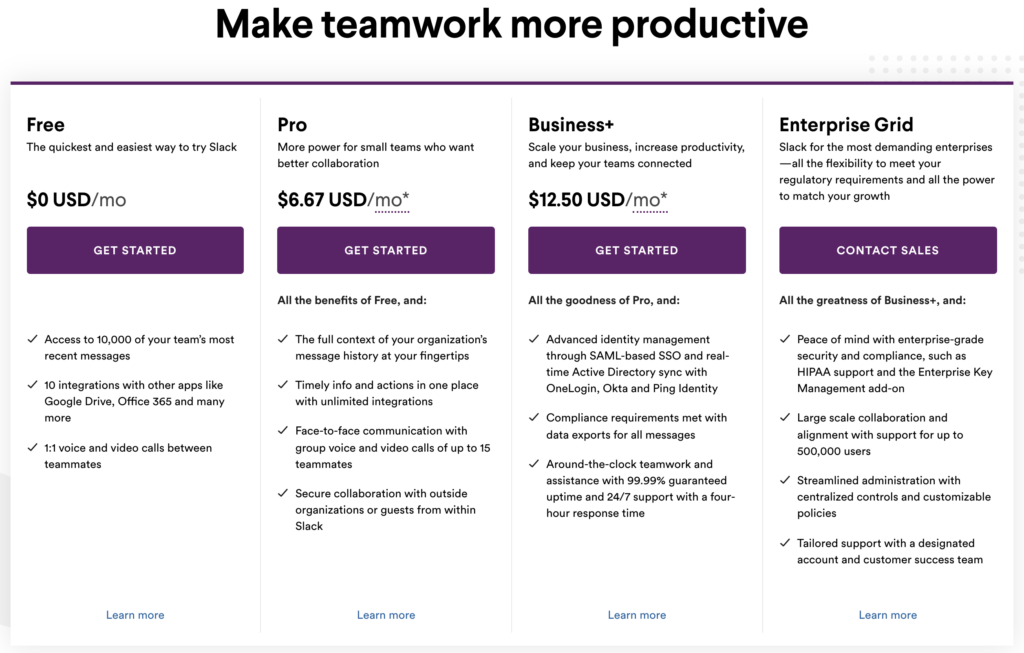 Small teams can access 10,000 messages and integrate with ten other apps. If you have a more significant business, you need to scale up to their more extensive plans like Pro, Business+, or Enterprise Grid. Enterprise pricing is available through Slack's sales team.
Slack Tips: Frequently Asked Questions (FAQs)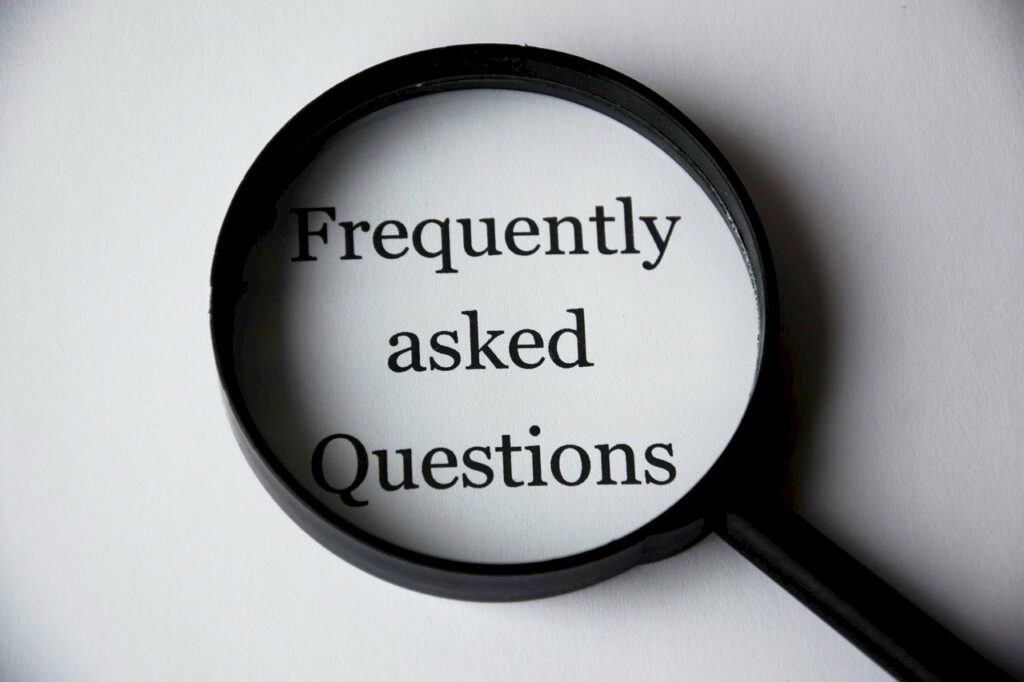 Can I customize my standup questions in Jell?
Yes! In the Standup settings page, you can name your standup, grant standup permissions (public or private), define the standup frequency, send standup reminders, and edit, delete, re-order, or copy standup questions. 
How does Jell send notifications?
Well sends several notifications through email, Slack, and Microsoft Teams. when enabled, you can control the notifications you receive and when you receive them.
Does Jell integrate with anything other than Slack?
Yes, Jell integrates with Jira, Slash, SlackBot, GitHub, Trello, Pivotal, and Flowdock.
What are #tags?
In Jell, you can add #tags to your standup questions or check-ins to see all the plans sharing the #tag in one place, another one of our useful Slack tips. It's a great way to combine all activities across your team for specific projects.
What are check-ins?
Check-ins are similar to standups because they're a method for progress-sharing. Here's another of our Slack tips: In Jell, you can customize your check-ins for various use-cases. They're great for one-on-one meeting prep or weekly management reporting.
Daily Standups, Check-Ins, & OKRs
Conveniently integrates with Slack, MS Teams, & More.