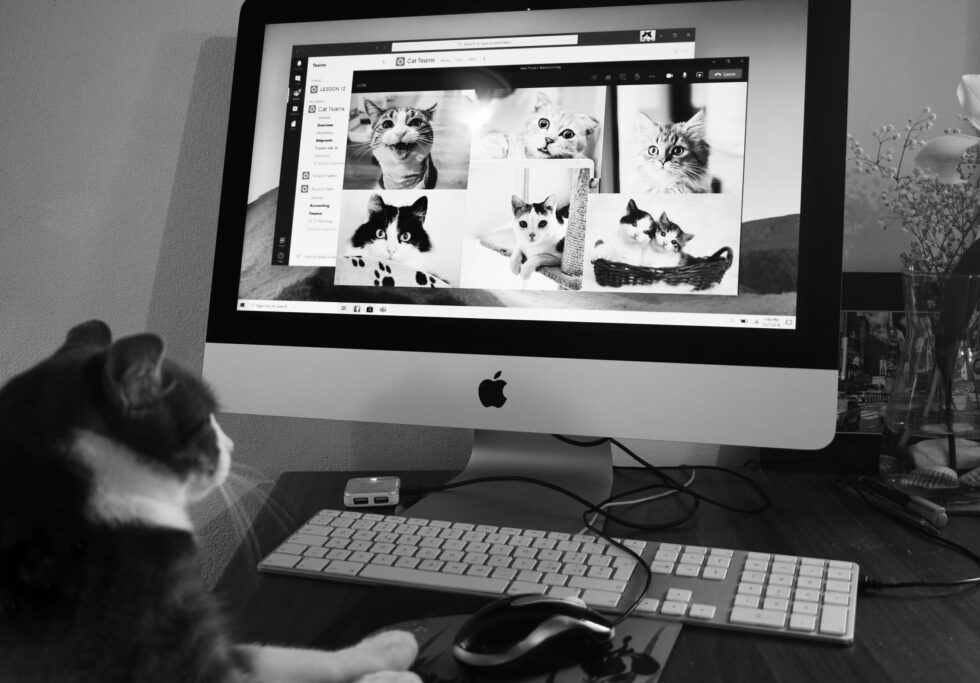 Remember when Microsoft painted this
terrifying picture of the future of remote work?
It sent shivers down my spine, especially picturing myself at my own funeral, clutching a Microsoft Surface Pro while my cold, lifeless body lies in state. Joking aside, it's not a healthy depiction of remote work and in our experience at Jell, not accurate either. And it shouldn't be for your company. 
In reality,
countless studies
show how remote employees tend to be more engaged than their in-office counterparts while also living healthier, happier personal lives.
If you're new to managing remote teams or are looking for tips to improve your current workflows, this post is for you. We'll walk you through important lessons we've learned as our fast-growing organization has come to rely on the productivity of managing remote teams.
Use Our Employee Check In Template
Daily Standups, Check-ins, & OKRs.
14-day free trial. No credit card required.
Related Articles
What Everyone Gets Wrong About Working Remote
10 Stats That'll Change the Way You Think About Remote Work
Remote Work Culture – Why does remote work fail?
The Do's and Don'ts of Managing Remote Teams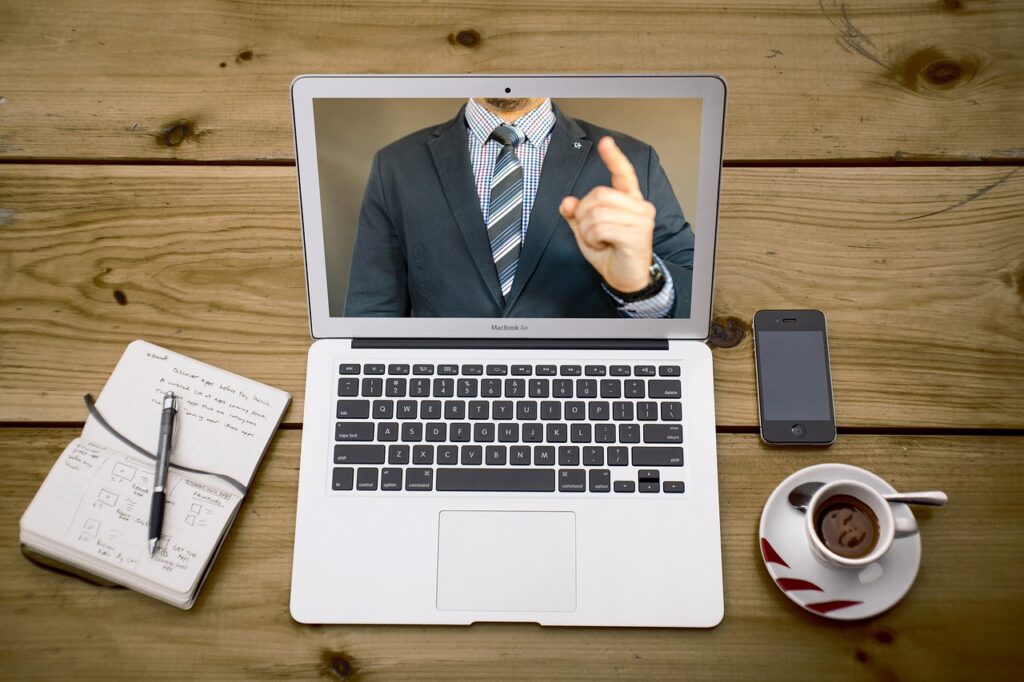 These do's and don'ts will help you avoid potential pitfalls and reap benefits (in other words: you can learn from our mistakes). 
Do: Set up recurring one-on-one meetings 
The first step to keeping track of your remote employees is regular one-on-one status updates. These check-ins should occur bi-weekly or monthly, depending on your company's needs (it varies from company to company).  One-on-one meetings:
Improve productivity

Strengthen trust and relationships between teams and their leads

Deliver personalized,

actionable feedback
There's a reason you see one-on-one meetings listed in management strategy: they work.  At Jell, we believe in the power of the one-on-one meeting. So much so that we developed our own eBook. In it, we show you: 
Why one-on-one meetings are essential to building relationships between managers and employees 

What makes for great one-on-ones

Common meeting mistakes and misconceptions
Jell's platform is an easy way to keep managers honest with their one-on-one prep. All you need to do is create a report for your employee to fill out before their one-on-one. Then, your employee fills it out, and you are notified immediately.  You can also use Jell as a weekly recap to check in with employees at the end of every workweek. Your employees review their accomplishments, update stats, and submit their reports. This way, you have an idea of how all your employees are doing every week. One-on-one meetings help employees do the best job they can. 
Don't: Require frequent group check-ins
I know this is counterintuitive to say, especially coming from a company whose application helps you organize your daily standups. But, what I really mean is don't require frequent group meetings that frequently devolve into chaos.  Companies waste a lot of time in meetings. So much so that we created our meeting cost calculator to help you determine your meeting budget. Some sources estimate that more than 30 hours are spent on unproductive meetings monthly. Why would you want to spend even more time in meetings checking in on the status of your employees? If you could've seen some of our first meetings, you'd be floored at how unproductive they were. Demanding too many status updates from the team can have the same effect. You'll spend more time tracking down what employees are working on than focusing on big picture goals, which ultimately negates the productive power remote teams can offer. Instead, consider asynchronous daily standup questions. Then, instead of wasting precious group minutes in a meeting, integrate Jell with Slack or Microsoft Teams and program your questions through our application. Once you program the standup question frequency, Jell takes it from there by sending your employees their questions and reminding them to send in their responses.
You can configure your questions however you like from text-based, lists, multiple-choice, or number-style questions.  Once you get your team on board, you're ready to open the lines of communication like never before using our daily standups.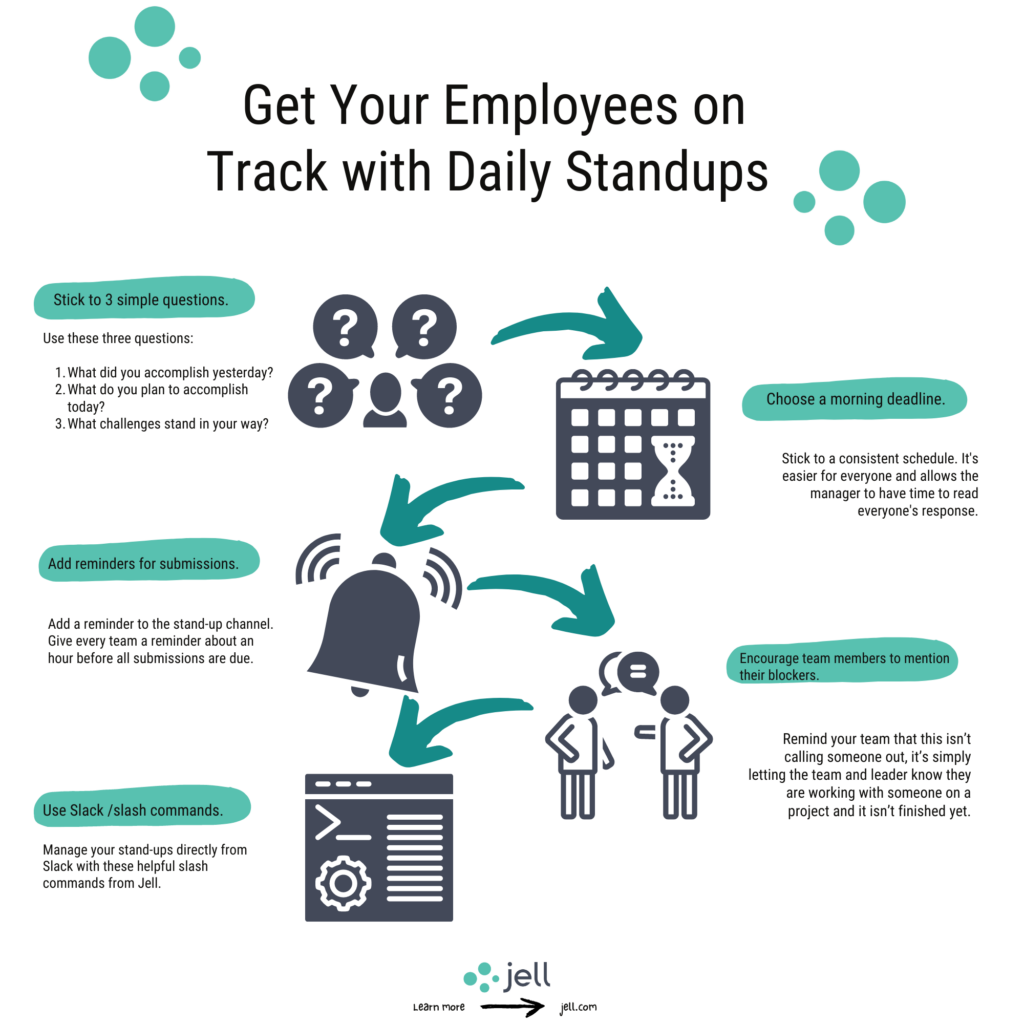 Do: Have a system for sharing team progress that doesn't slow things down
Instead of filling your calendar with online meetings and conference calls, leverage technology that allows for efficient communication and camaraderie. When used effectively, tools like Jell, Google Hangouts, Slack, and Microsoft Teams can quickly get everyone in sync so team members can spend less time updating and more time getting things done.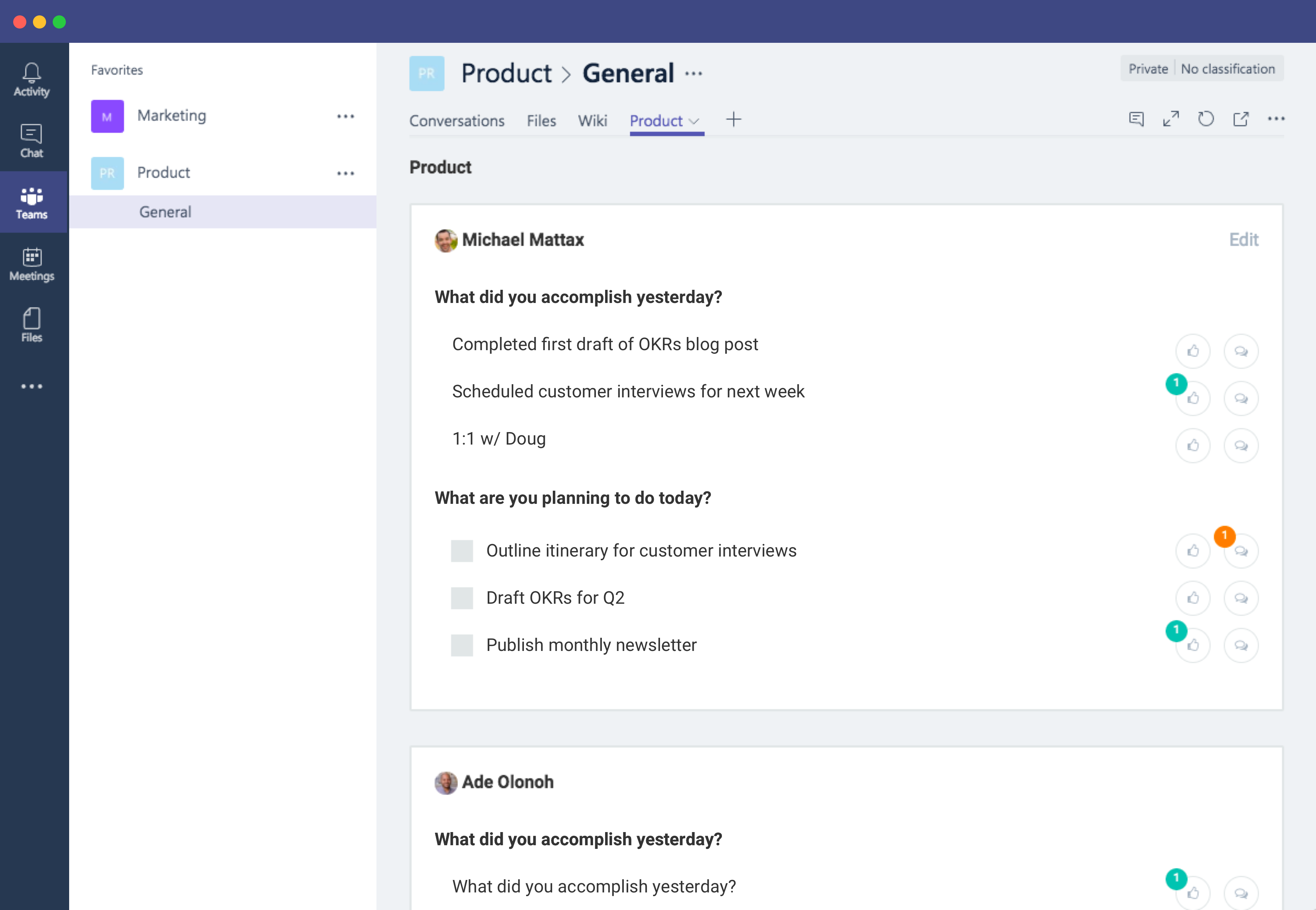 Jell's Microsoft Teams daily standup integration.
Don't: Require strict, set work hours
A significant benefit of managing remote teams is the ability to hire the best of the best, regardless of where they're located. Employees may span different time zones and have different lifestyles, but hiring talented self-starters gives you a serious competitive advantage—if you let people maintain some autonomy. On the other hand, chaining everyone to the same strict 9-5 schedule is a surefire way to kill your opportunities for big ideas and achievements.  Sure, certain tasks must be done in a set timeframe. For example, your sales team needs to work consistent hours so customers know when to reach them. Your support team also needs to work consistent hours also so customers can reach them whenever possible. But your content team? Marketing team? Product managers? You should let them work whenever they want, as long as they get the work done.  Strict work hours are an archaic workplace model. 
Do: Offer flexibility
You can reap some big rewards when you let remote employees identify their creative ways to stay engaged. Flexibility means you get people at their most productive—whether they're powering up PCs at 5 a.m. or shutting them down at 11 p.m. And today's technology makes it easier than ever to overlap schedules and coordinate day-to-day deliverables. During COVID, managers had to act quickly to adapt to the changing, virus-swept world and two years later as a result, employees want flexible work options to remain. There are various versions of flexible work. It looks like flexible work shifts, changing arrival and departure times to accommodate your employees' needs, part-time benefits, caregiving leave, remote working options, sabbaticals, and more.  Managers embracing flexibility in their workplace will find a larger talent pool; after all, women and Gen Zers are more likely to apply to remote positions when job searching.  
Don't: Treat teams like contractors
Contractors come into your company and sometimes leave as fast as they came in. With contractors, you don't have the opportunity to meet with them and work on their growth. But your relationship with your regular employees shouldn't be like this. Your employees want to feel as though they are a part of something larger than themselves and a worker who feels isolated from a team isn't going to be inspired or productive. This hazard is most likely to surface at only partly remote organizations: off-site employees are handed one-off projects. In-house team members are tasked with all the collaborative work. You risk a revolving door when remote employees aren't treated as critical contributors to big-picture goals.  A few ways to ensure your employees feel valued in your workplace:
#1
Offer fair compensation
Too often, employers want to save a buck or two instead of investing in their current employees. But, unfortunately, being cheap like this costs you–big time. The facts? Well, according to a Gallup poll, the cost of replacing an individual employee ranges from one-half to two times the employee's annual salary. For example, a 100-employee company providing an average salary of $50,000 might have turnover and replacement costs of approximately $660,000 to $2.6 million annually. So, would you rather offer benefits or pay the price to replace your existing talent? 
#2 Give your employees meaningful tasks
Employees want to create value in a company (it is a human trait to make meaning in one's life). How can you help your employees create value at your company? First, let your employees know when they're doing a good job and recognize their contributions in front of others too. Consider highlighting team members' achievements at a team meeting, so everyone knows what everyone else is doing. Look for opportunities to challenge your employees, like offering an older sales rep the opportunity to mentor a new sales rep. 
#3 Offer stellar benefits 
There is a definite relationship between work-life balance and employee job performance and satisfaction. Promoting a healthy work and life balance reduces stress, prevents burnout, saves money, and keeps your employees happy. If you're not sure where to start, VantageCircle has an article offering a few ideas. 
#4 Celebrate achievements
Going along with giving employees meaningful tasks, it's likewise essential to celebrate all they've accomplished at your company. Consider recognizing accomplishments both large and small, including: 
Going above and beyond to help a customer

Reaching a sales target

Onboarding new employees

Signing on x amount of money in a contract
Big or small, look for opportunities to let your employees feel like winners! 
#4 Promote internally
Another way to treat your existing employees well is to promote internally. When you promote internally, you invest in your employees and show them you trust them and want to facilitate their growth. In addition, hiring existing employees has other benefits like faster onboarding for the new role, reduced costs, and increased employee loyalty. These are only a few strategies to show your team that you care. 
Do: Find non-intrusive ways to engage with them daily
Committing to remote work means involving everyone in daily projects and progress. Of course, this becomes more challenging when there are no water coolers and conference rooms down the hall, but it can be done. And this is precisely why we created Jell in the first place. With Jell's Slack and Teams integrations, you can unobtrusively check in with your staff daily without interrupting their workflow.
Daily Standups, Check-Ins, & OKRs
Jell conveniently integrates with Slack, MS Teams & More.
14-day free trial. No credit card required.
Managing Remote Teams: Frequently Asked Questions (FAQs)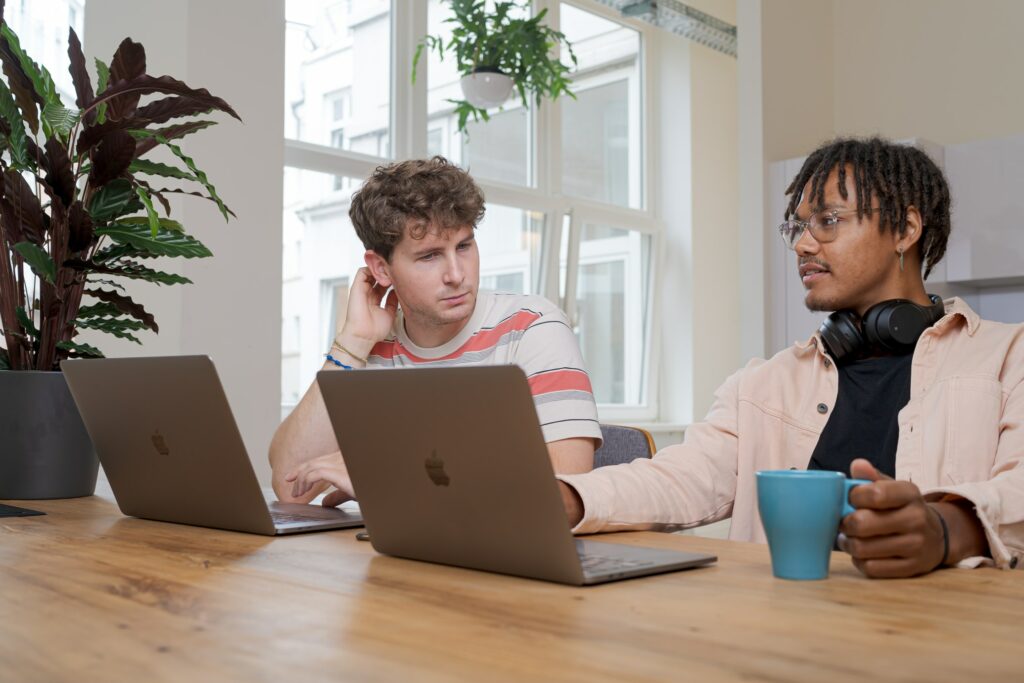 How do you manage remote teams effectively?
There are many strategies for managing remote teams. First, always clearly communicate guidelines and policies. Check in with your team frequently, but not too often–one-on-one meetings and daily standups are all you need to keep the lines of dialogue open. Also, set up apps like Jell and Slack to help your team communicate and collaborate. Offer flexibility in the workplace and trust your employees to do the job. Above all, invest in your employees, and they'll pay you back with their loyalty.
What are the challenges of managing remote teams?
Some common challenges of managing remote teams include lack of clear expectations, lack of face-to-face communication, social isolation, lack of collaboration, no regular check-ins, and strict schedules.
What are some guidelines for managing remote team meetings?
To manage remote teams, make sure to set up recurring one-on-one meetings, require occasional check-ins from staff like daily standups, invest in your current talent by offering them raises or hiring internally for new roles, offer flexibility, and have a clear set of expectations. 
What applications can I use to manage remote teams?
Jell is excellent for setting OKR (objectives and key results) goals, organizing your one-on-one meetings, checking in daily with your team, and communicating asynchronously. It's perfect for teams in multiple locations globally. We also recommend Google Docs for document sharing and Slack for communication.
How do remote workers manage productivity? 
Remote workers manage productivity using various tools like Jell for regular team check-ins, Google Calendar for events, apps like Forest for focusing, Microsoft To-Do for managing to-do list items, and require regular one-on-ones with managers to ensure they're on the right track. 
What is the single biggest challenge in managing a remote workforce? 
Buffer's 2019 State of Remote Work report found unplugging after work the most common challenge. Besides this, communication is the single biggest challenge without the right tools like Jell. The reason? There isn't an easy way to chat with someone. In a traditional office setting, you can go up to someone's cubicle or office door and start a conversation. With remote work, it's more complicated.
Conclusion
Managing remote teams comes with a unique set of challenges. But, handle them with care, and you stand to reap some big rewards. With basic do's and don'ts, a little technology, and a lot of flexibility, you can be on your way to happy, in-sync teams.
Manage Your Remote Teams with Jell
Daily Standups, Check-ins, & OKRs.
14-day free trial. No credit card required.
Popular Articles